Archive for the 'Blogroll' Category
One Project Closer is hosting another round of their Before & After contest in support of Habitat for Humanity. The entries are all in and all that's left now is for you to vote for the best one!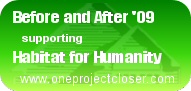 There are some great entries this time around and each project is very inspiring and motivational.  So give them some love and help support a great cause at the same time!
For those of who you don't know, Habitat for Humanity doesn't just build new houses from scratch. They also run places called "ReStores" where gently used and excess building materials are re-sold like at a thrift store. These are great resources for people fixing up older homes. You never know what you're going to find there. If you have a ReStore in your area, be sure to stop in regularly and let the good folks there know you appreciate the facility.  Also, remember to donate your leftover materials! Someone else will get good use out of them.
You are currently browsing the archives for the Blogroll category.
Custom Search

More About Our New Old House

Categories